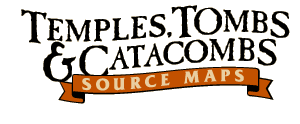 Summary
Source Maps: Temples, Tombs and Catacombs! includes floorplans, surroundings and 3D views based on each of these archetypal sacred sites:
25 sites, 149 plans
Angkor Wat
Borgund Stave Church
Christchurch Cathedral
Dwarven Treasury
Gizeh - Pyramid of Khufu
Hal-Saflieni Hypogeum
Temple of Hapshetsut
Hochdorf Burial Site
Ise Shrine
Kairouan Mosque
Lich's Mansion
Machu Picchu
Natural Cave System
Pantheon
Parthenon
Tomb of Quin Huangdi
Tomb of Ramesses II
Reims Cathedral
First Temple of Solomon
Speyer Cathedral
Stonehenge
Teotihuacan
St Martin's Church
Mad Wizard's Dungeon
SM:TTC! comes with its own powerful stand-alone viewer, so it is not necessary to have CC2-Pro. However, if you do own CC2-Pro, TTC! adds more than 108 temple-designing tools, templates, 70 symbols, 32 hatch styles (the same tools we needed to create the 2D layouts):
If you have Perspectives Pro, you also get 250 temple perspective symbols you need to create 3D castle views like the one in Source Maps: Temples, Tombs and Catacombs!
Adventure Material
Each site has web pages detailing its real-world history with photos of the site.


The adventure material comprises twenty adventures in 3.5 Edition format, a linked horror campaign across five site using d20 Modern rules, three adventures converted to Action! System rules and two for the Dying Earth roleplaying game. The adventures are written by experienced RPG writers and take full advantage of the range of maps available.
Extra Goodies
For your convenience, we've also included the complete set of the sites in png format and provided a book of the sites as a 150-page PDF.
System requirements:
A PC running Microsoft® Windows® (95 to XP inclusive)
30MB hard disk space
A CD-ROM drive (for boxed version)
Package contents:
CD-ROM and Essentials guide(boxed version only)
90 days web-based technical support
'Action! System' and the Action! System logo are trademarks of Gold Rush Games and are used with permission.