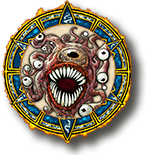 A host of fearsome foes to challenge your PCs
The Token Treasury line gives you a huge selection of creatures and characters to populate your maps, with frames and varicolor backgrounds to customise your virtual tabletop tokens. The art is available as CC3+ symbols and as PNG files for any graphics package such as Photoshop and GIMP. The Token Treasury is designed for use with any virtual table top software such as roll20, Battlegrounds, d20pro and Fantasy grounds.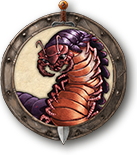 The first release, Token Treasury: Monsters contains 118 creatures drawn by fantasy artist Rich Longmore, in rectangular and circular forms, as well as a set of token frames for depicting the creatures role in combat for your fantasy maps.
Open then, if you dare, the Token Treasury: Monsters!