Token Treasury: Monsters Key Features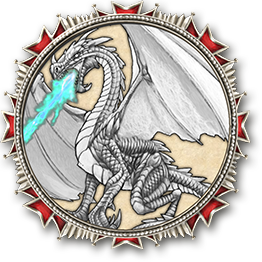 The Token Treasury: Monsters features:
More than 750 tokens, consisting of 118 creatures and 24 frames in various configurations, for immediate use in any graphics software such as Photoshop or GIMP.
Ready for use in virtual table top (VTT) application such as roll20, d20pro, Battlegrounds and Fantasy Grounds.
Frames for melee, ranged, magic and bosses to denote the creature's role in combat.
A guide introducing you to the Token Treasury both within CC3+ and in other applications.
More than 500 symbols for use in CC3+ including the 118 creatures and 24 frames in 4 symbol catalogs, and templates and drawing styles for creating more token combinations.
If you own CC3+, TT:M also installs symbol catalogs, templates and drawing tools. Create custom tokens with varicolour backgrounds and add your own frames. Mirror the symbols to add variations.
Creature List
Normal creatures are 300 x 300 pixels, large creatures are 600 x 600 pixels, and huge creatures are 600 x 900 pixels.
Angel normal
Ant Giant normal
Ape normal
Bandits Melee normal
Bandits Ranged normal
Barghest normal
Bat Swarm large
Bear Dire large
Beholder normal
Boar normal
Bugbear Melee normal
Bugbear Ranged normal
Centipede Giant normal
Cyclops large
Demon large large
Demon Prince large
Demon Small large
Djinni normal
Doppelganger normal
Dragon Black Adult large
Dragon Black Ancient huge
Dragon Black Young large
Dragon Blue Adult large
Dragon Blue Ancient large
Dragon Blue Young large
Dragon Gold Adult large
Dragon Gold Ancient large
Dragon Gold Young large
Dragon Green Adult large
Dragon Green Ancient large
Dragon Green Young large
Dragon Red Adult large
Dragon Red Ancient large
Dragon Red Young large
Dragon White Adult large
Dragon White Ancient large
Dragon White Young large
Drider large
Drow Melee normal
Drow Ranged normal
Dryad normal
Duergar 1 normal
Duergar 2 normal
Elemental Air normal
Elemental Earth normal
Elemental Fire normal
Elemental Water normal
Ettin large
Gargoyle normal
Gelatinous Cube large
Ghost 1 normal
Ghost 2 normal
Ghoul normal
Giant Fire large
Giant Frost large
Giant Hill large
Giant Stone large
Gnoll Melee normal
Gnoll Ranged normal
Goblin Captain normal

Goblin Magic normal
Goblin Melee normal
Goblin Ranged normal
Golem Clay large
Golem Stone large
Griffon normal
Hell Hound normal
Hobgoblin Captain normal
Hobgoblin Melee normal
Hydra large
Intellect Devourer normal
Invisible Stalker normal
Kobold Captain normal
Kobold Magic normal
Kobold Melee normal
Kobold Ranged normal
Lamia normal
Lich 1 normal
Lich 2 normal
Lizardfolk Magic normal
Lizardfolk Melee normal
Manticore large
Medusa normal
Minotaur normal
Mummy normal
Naga normal
Nightmare normal
Ogre Magic normal
Ogre Melee normal
Ooze large
Orc Captain normal
Orc Magic normal
Orc Melee normal
Orc Ranged normal
Owlbear normal
Pegasus large
Rakshasa normal
Rat Swarm large
Scorpion Giant normal
Shadow normal
Skeleton Melee normal
Skeleton Ranged normal
Spectre normal
Spider Giant normal
Treant large
Troll 1 normal
Troll 2 normal
Unicorn normal
Vampire 1 normal
Vampire 2 normal
Werewolf normal
Wight normal
Will o'Wisp normal
Wolf normal
Wolf Dire normal
Wyvern normal
Yeti normal
Zombie 1 normal
Zombie 2 normal