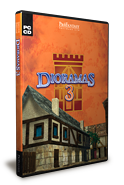 Dramatic scenery
No drama
Dioramas 3 is for miniature gamers who'd rather not spend a fortune on 3D terrain and props. With this innovative card-modelling design software, a printer, and a speck of skill, you can create virtually any model, simply and intelligently.
Dioramas 3 helps you design anything from the most complex fortress to the simplest hovel, from dungeons to starships, to virtually anything you can imagine. And you don't have to be a modelling genius. All you need do is plug together basic nets (cut-outs) to give you any number of final models. The cut-lines, glue-tabs and fold-lines are pre-marked for supreme simplicity. But if you do fumble, it's not a problem. Start again and all you've lost is some card and a bit of printer ink.
Dioramas 3's template printing functions allow you to model at all popular miniature scales with no re-drawing necessary. From a single drawing, you can create 15mm, 20mm, 25mm, 28mm, and 30mm scale models at the touch of a button. With Dioramas 3 and Character Artist 3, you can really bring your games to life without emptying your pockets for a few pounds of resin, plastic or lead.
Infinite scenery for an infinite world