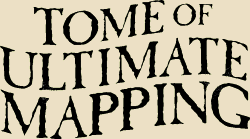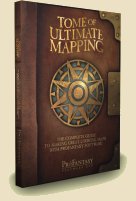 The Tome of Ultimate Mapping FAQ
What ProFantasy products does the Tome detail?
The Tome was created with CC3+ in mind, and covers all the functionality of CC3+, both new and old features plus Fractal Terrains 3. The current version documents the updated version 3+ for all the add-ons. Source Maps version 3 compatibility updates are also included. It won't be immediately after the release.
What versions of the Tome are available?
The Tome is available as a download. The Tome, like all our products is covered be our download guarantee.
What ProFantasy products does the Tome detail?
The Tome details all of ProFantasy's "3+" products, i.e. Campaign Cartographer 3+, and all the various add-ons for it. For products a 3+ version does not exist, the compatibility upgrade is covered instead. In addition, Fractal Terrains 3 is covered.
What does the Tome include?
A 760-page cross-referenced and bookmarked pdf covering all of the ProFantasy products in detail.
Tips, hints techniques on map creation, symbol management, draw tools and map styles.
Tutorials on how to handle both raster and vector artwork.
Complete command reference tables, including macro commands.
110+MB Support files
What support material does the Tome include?
The Tome includes more than 110MB of support files. These include:
Tutorial files to support the tutorials in the book.
A few new fonts.
Sample raster images for use in symbol creation and fills.
Example files (Some from the previous version of the Tome, some new files)
How much is new material?
Compared to the previous version of the Tome, about 50% is completely new material, the other 50% is updated material which brings the old material properly into CC3 and CC3+.
Compared to existing CC3+ documentation (manuals, essential guides, help files), about 65% of the Tome is new material, and about 90% of the rest have been updated and/or expanded in some way.
What about the existing documentation?
The production of the Tome has not and will not affect the speed at which we update current documentation. The Manuals, Essentials Guides and help will remain available and will be updated at the usual pace.