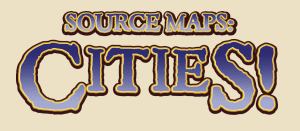 Summary
Source Maps: Cities! includes city plans, 3d views and floorplans based on each of these exemplary historical towns and cities:
8 Cities, 26 Buildings, 78 Plans
Avignon
Small City Church
Babylon
The Hanging Gardens
Ishtar Gate
New Year's House
Small Houses
Sin-Karsid's Establishment
The Temple of Marduk
Forbidden City
Large, Well-To-Do Home
Sampan (River-boat)
Kaupang
Great Hall
Drakkar (Longship)
Knaar (Trading Ship)
Small House
Pompeii
The Forum
A Well-To-Do Home
Commercial Bakery
Temple of Jupiter
Stabian Baths
Gladiator Barracks
Rothenburg
Town Hall
Inn and Town Houses
Southampton
Wine Merchant
Armed Merchantman (Small Carrack)
Warehouse
York
Micklegate Bar
Merchant Adventurer's Hall
SM:Cities! comes with its own powerful stand-alone viewer, so it's not necessary to have Campaign Cartographer 3. However if you own CC3, Cities! adds 45 drawing tools, 16 templates, 2 template wizards (for CC3 only), and more than 360 symbols (the same tools we used to create all the maps). This includes 165 gorgeous isometric symbols that allow you to quickly create 3d views of your own cities and towns.
Users of CC2 Pro will get CC2-compatible versions of the maps for their own editing, and can view the the effects-enhanced maps through the accompanying Cities! stand-alone viewer.
Adventure and Historical Material
Each city comes with web pages that detail its real-world history, culture and day-to-day life. You'll get information from housing, law and government to prices and taxes of the period.
And that's not all! For each city you will find several adventure seeds with a plot outline and important NPCs to get players involved in the setting.

SM:Cities provides NPCs stats for several great game systems: d20, Chimera, HERO, HARP and Savage Worlds stats are included, created by long-time players of the respective systems. Stats are organzied separately and linked to each adventure so that you can refer to the system of your choice easily and quickly.
Extra Goodies
For your convenience, we've also included the complete set of the sites in png format and provided a book of the sites as a 150-page PDF.
System requirements:
A PC running Microsoft® Windows® (95 to XP inclusive)
30MB hard disk space
A CD-ROM drive (for boxed version)
Package contents:
CD-ROM and Essentials guide (boxed version only)
90 days web-based technical support
'd20 System' and the d20 System logo are trademarks of Wizards of the Coast, Inc. in the United States and other countries and are used with permission.
Chimera RPG is Copyright © 2005-2007 The Welsh Piper LLC. Used with permission.
HARP and High Adventure Role Playing are copyright © 2002-2006 by Aurigas Aldbaron LLC. Used with permission.
The HERO System, Champions, and Fantasy Hero are all © 2007 by DOJ, Inc. d/b/a Hero Games. Used with permission.
Savage Worlds, Jack, and all associated logos and trademarks are Copyright 2006, Pinnacle Entertainment Group. Used with permission.