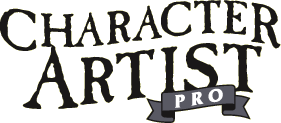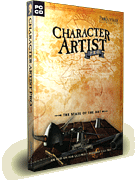 Character Artist Pro Features
Character Artist Pro includes a large number of symbols, along with a number of utilities designed to make it easier to work with character portraits in particular and symbol catalogs in general.
Character Portrait Utilities
Use over 17,000 symbols to create characters from six pre-defined races: Dwarf, Elf, Gnome, Halfling, Half Elf and Half Orc.
Easy-to-use interface – just point at the body parts and clothes, then click on the view window.
All parts fit neatly together without extra effort on your part.
Customise the color of body parts and clothing, including the shading or highlight colors.
Create many types of humanoid monsters then scale to fit. Gnolls, flaming demons, and lizard men are all a cinch.
Export the portraits at high resolution on character sheets or the internet.
Use portraits to make square counters and print them at any scale for use with wargames.
Use portraits to make card stand up figures.
Create a silhouette or mirrored silhouette of your character.
All portraits can include text information such as attack values and defence values.
Character Artist Pro includes extra symbols for monsters, treasure, weapons and magical effects.
Many templates for creating counters, monsters, portraits with backdrops, stand-up counters at various miniature scale and square counters.