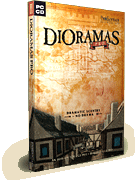 Dioramas Pro Summary
Dioramas Pro is the "add-on" to CC3 for drawing, printing and assembling 3d model scenery for your games. Hundreds of symbols, dozens of fill styles, many different templates and a large variety of examples provide the tools to create your own 3d paper models.
Automated printing tools let you print any model at any common miniature scale on the click of a button.
System requirements
A licensed, working copy of CC3
30MB hard disk space
The download and boxed versions both include:
Instant download of Dioramas Pro
The Dioramas Pro user's manual in Adobe PDF format
Entitlement to download free update packs from the web
90 days web-based technical support
The boxed version also includes:
Dioramas Pro user's manual booklet
Dioramas Pro CD-ROM