This is archive content.
Character Artist Pro has now been superseded. For current information about the new version, please go here: Character Artist 3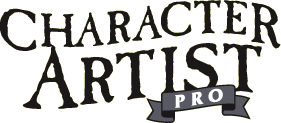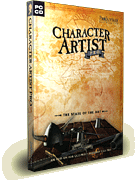 How to create portraits with Character Artist Pro
It's just a matter of plugging the right pieces together to get the character you are looking for, then customising the result with CC2-Pro's editing commands. There are over 17,000 body parts, items of clothing, armour and other symbols.

Choose the sex
Click on the Choose sex icon to choose between male and female versions of the catalog.
---

Choose the race
Select the Choose Race icon.
Choose between: Human, Dwarf, Elf, Gnome, Half Elf, Halfling and Half Orc. A wide selection of humanoid monsters including orcs, gnolls, lizard men and demonic creatures can be built on the basic human frame then re-sized.
---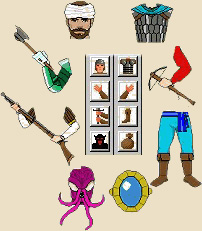 Select body parts and clothes catalogs
Click any Catalog icon
The new symbol catalog loads in the Catalog Window. Combine heads with hair and helmets, add belts and, musical instruments. A variety of different arm positions and combinations give you different poses.
---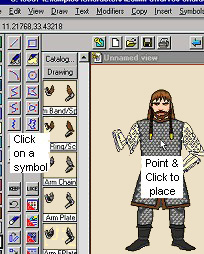 Add symbols
Click on a symbol, then click on the screen. All the pieces plug together automatically.
Select a basic figure, add arms, clothes, armour and weapons, as well as a wide selection of other items.
You can add your figure to a plain background, a card stand-up template or an attractive backdrop.
---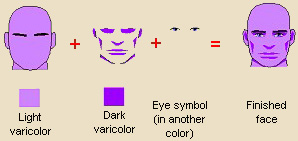 Choose your colors
CA-Pro allows you to build clothing or body parts with customized coloration and eye color. Choose a dark and light color and use the special "varicolor" symbols.
---


Personalise your figure
Because CA-Pro is an add-on to CC3, you can add character to your figures. Every symbol can be changed using CC3's editing commands to make the figure just as you want it.
In this example, we've added body hair, jaunty eyebrows and a frown to this berserker dwarf.
You can also add shadows, or convert your character into a silhouette.
---
Using your portraits
When you have created your portrait you can:
Add it to any CC3, DD3 or CD3 map
Print it at any scale
Export it for use on the web or on a character sheet
Add it to a square counter to print or add to maps
Add it to a stand up counter to print out at scale
---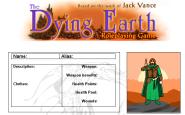 Export the portrait
When you have created your figure, you can export it at high resolution in JPEG, PNG, BMP and EMF format. Because CC2-Pro uses vector art, there will be no loss of detail. Place the portrait in a character sheet, or add it to your web site.
---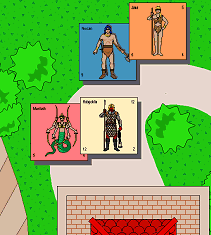 Make a counter
CA-Pro lets you create square or even hexagonal counters. You can create the portraits directly on to the counters, or paste an existing portrait onto a counter.
When you add a counter to a map, CA-Pro can ask what text details you want to add to the counter, such as attack of defence strength.
Use these portraits electronically, or print out whole armies of catalogs at any scale for your use.
---

Make stand-up card figures
You can also create stand up card figures from your portraits for use as miniatures.
Character Artist includes templates for many different miniature scales, so that you can get the most portraits to each sheet of card.