The Cartographer's Annual Vol 6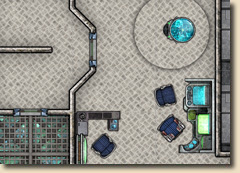 July '12
The July issue of the Annual 2012 brings you a huge collection of bitmap artwork for science-fiction floorplans. Created by Storyweaver and Joseph Sweeney, the master of CC3 video tutorials also teaches you how to build geomorphic battle tiles with the included symbols, tools and templates.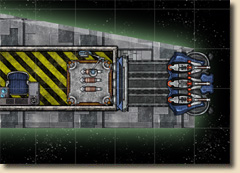 The style contains more than a hundred new bitmap textures, more than two dozen new symbols and more than an hour of video tutorials that range from planning your own ship designs all the way to advanced symbol managing techniques in CC3.
The symbol and texture pack High Space SciFi Tiles includes
105 new SciFi bitmap textures
172 new SciFi bitmap symbols in 3 catalogs
2 new template wizards (for use with COS3 and DD3)
2 new drawing styles with 147/130 drawing tools (for COS3/DD3 respectively)
5 example battle tiles (FCW and PNG format)
2 new effect settings
6 video tutorials (4 basic, 2 advanced)
Videos
The accompanying video tutorials are freely available. You can download them to your hard drive or watch them on Joseph Sweeney's YouTube channel below.
High Space Battlemaps Tutorial 1: Creating a Guide Map
High Space Battlemaps Tutorial 2: Mapping the Command Deck
High Space Battlemaps Tutorial 3: Mapping the Bridge
High Space Battlemaps Tutorial 4: Printing and Outputting Maps for Play