The Cartographer's Annual Vol 3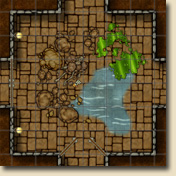 Special Issue
To celebrate the conclusion of the third Annual year and as a little christmas present to the its community, ProFantasy releases this special issue of The Cartographer's Annual 2009. Joseph Sweeney (of CC3 video tutorial fame) created this style pack to quickly and easily create geomorphic Battles Tiles. And of course he teaches you how to use it with his great video tutorials!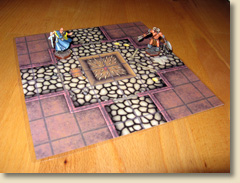 The special issue bundles the templates and tools into one convenient style pack and comes with a number of pre-drawn tiles. A short mapping guide is included for those who wanto to dive in quicker than by watching the video tutorials.
The tool pack Battle Tiles includes
1 new template wizard
2 new fixed templates
3 video tutorials on the basics of creating battle tiles (18 minutes total)
3 example tiles
1 set of 7 battle tiles "Crypt of Undying Evil"
1 set of 13 expandable room and corridor tiles
1 set of 13 basic pre-drawn battle tiles
1 4-page mapping guide
Download and Install
Download Issue 36B - Tool Pack "Battle Tiles" and run the exe file. Follow the on-screen instructions to install it.
Videos
Download Joseph Sweeney's Video Tutorials on creating Battle Tiles.
Or watch Joseph Sweeney's video tutorials online:
Basic Tutorials
Part 1
Part 2
Part 3
Advanced Tutorials
See the Advanced Tutorials on Battle Tile creation on Joseph Sweeneys YouTube channel, or download them (418Mb) for offline viewing.
More support material is available for download on Storyweaver.com