The Cartographer's Annual 2015

June '15
The June issue of the Annual 2015 contains a four-deck starship from the Ashen Stars role-playing game by Pelgrane Press, the Mandible-class Laser vessel.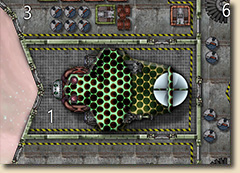 Each deck is rendered in loving detail and exported in a variety of high-resolution formats for quick and easy use in a online or tabletop game. Use CC3 with Cosmographer 3 to view and edit the original FCW drawings.
The map pack Alien Starship includes
4 new starship deckplans by Ralf Schemmann (FCW, jpg, png and pdf format)
1 7-page sheets & effects guide to the starship