The Cartographer's Annual Vol 7

June '13
The June issue of the Annual 2013 contains a new vector overland drawing style for creating more whimsical, light-hearted maps. The simple but not simplistic style is easy to use and maps get quickly finished.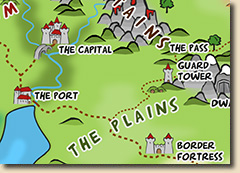 The art style is inspired by the work of illustrator James Stowe, especially his Sidekickquests web comic. Read it here and enjoy!
The style pack Comic Book Maps includes
1 new drawing style including 31 new drawing tools
2 new template wizards (metric and imperial)
187 new vector symbols in 7 catalogs
2 new effect settings
2 example maps (fcw and png format)
1 new true type font
1 3-page mapping guide