The Cartographer's Annual Vol 6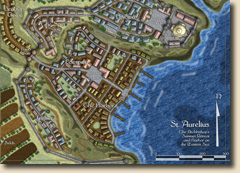 March '12
The March issue of the Annual 2012 contains a complete new city style created by fantasy cartographer Jonathan Roberts specifically for CC3.
Download a high-detail A2 pdf of the included example map "St. Aurelius".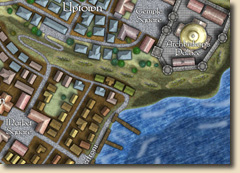 Jonathan's beautiful city map style can now be recreated by CC3 users with a full selection of house symbols, background textures, and house and street drawing tools, organized as always in an easy-to-use CC3 drawing style. The included mapping guide teaches you how to best create maps in this style.
The style pack Jonathan Roberts' Cities includes
1 new city drawing style
2 new template wizard (imperial and metric)
new bitmap symbols
new bitmap fill styles
1 4-page mapping guide
2 new effect settings
2 example maps in fcw and png format