The Cartographer's Annual Vol 6

June '12
The June issue of the Annual 2012 brings you a beautiful new drawing style by Herwin Wielink: Isometric Dungeons. The symbols for this style snap together easily on a pre-defined grid for amazing 3D views of your dungeons.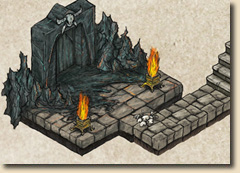 Herwin Wielink has outdone himself on the beauty of the individual symbol pieces for this style. Look for more of his work in upcoming CC3 products!
The style pack Herwin Wielink Isometric Dungeons includes
1 new drawing style
2 new template wizards (metric and imperial)
62 new bitmap symbols
1 new effect settings
3 example maps (fcw and png format)
1 new parchment background texture
1 new true type font
1 5-page mapping guide