The Cartographer's Annual Vol 3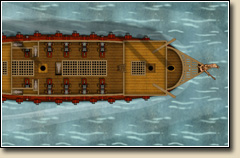 March '09
The March issue contains a detailed multi-deck plan of a sailing ship plus drawing tools and templates to draw your own. Fine-tuned sheet effects make the deckplan come alive and create maps useable both for reference and as a battlemat.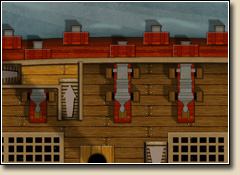 The accompanying, detailed description contains NPCs and adventure hooks for use in your own sea-going campaign. Yoho, and bottle of rum!
For the map pack "Sailing Ship" you need Dungeon Designer 3 installed to see the maps in native CC3 format and use the accompanying templates. If you do not own DD3, you can still use the maps in pdf and or format, as well as the adventure information.
The map pack Sailing Ship includes
4 detailed deckplans and a sideview of the ship (png and pdf exports included)
1 3-page pdf Sheet and Effects Guide
1 5-page pdf Ship Description
1 new template wizard
1 new template
73 new drawing tools
1 new symbol catalog containing 7 new symbols
8 new bitmap fill styles
2 new effect settings