The Cartographer's Annual Vol 3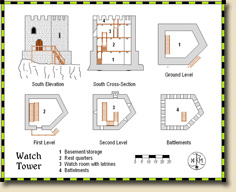 December '09
The December Annual provides tools and guides to create side views and cross-section maps for buildings, creating new beautiful and informative views of your gaming sites. The elaborate mapping guide takes you step-by-step through the creation process of such maps, making use of clever and convenient macros wherever possible to speed up the drawing process.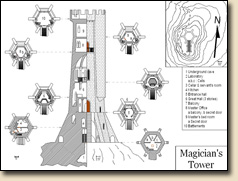 Created by ProFantasy community member Joachim de Ravenbel, the new style is both a convenient tool for users interested in this type of maps, as well as an exploration of CC3's more powerful CAD commands and macro capabilities.
The style pack Side Views and Cross-sections includes
1 new template
2 elaborate example maps
34 step-by-step tutorial maps
16 new macros
6 new symbols in one catalog
an 11-page mapping guide
a 5-page description of the example Magician's Tower
a 3-page guide to the included macros
This is not the end!
As a special thanks to our community, ProFantasy will release a special, free Annual 2009 issue a little later in December. Look forward to Joseph Sweeney's geomorphic battle tiles, complete with video instructions!